Post by Alejandra Mooseberg on Apr 3, 2019 14:23:37 GMT 10
*DISCLAIMER: There may be a lot of headcanons in this work because of lack of info in the game itself. I assume it's set in the early 2000s, due to the technology in the game (cars, phones, computers, etc) appear to be from that point of time. However, don't take my word for anything here being accurate in accordance to the real world & the game and what the developers intended.
Fara's Travel Blog
Tuesday, July 10th, 2001 7:04 PM
WHERE HORSES STILL ROAM: JORVIK
I
have to admit, I haven't seen this many horses since I saw that documentary of the 1800's in fourth grade. Ok, I do ride, but I only ever see a small amount of horses and the documentary still takes the cake. You can't fly to Jorvik, but actually you have to go there by boat. Stepping off that boat was absolutely whimsical! I had arrived at Jorvik Stables's little seaside ferry landing. There was nature everywhere! Flowers, trees, and good heavens even with that Jarlaheim city right above me with a few cars running about I'd never breathed fresher air! There was a wonderful tourist shop right up the stairs from the ferry landing and a pleasant outdoor cafe (you'll see these are a recurring occurrence within Jorvik). I managed to fish out a couple thousand Jorvik Shillings (their currency) for a new shirt and a lunch. I have to admit, clothing there is rather expensive, though there don't appear to be many factories (if there's any at all) or large producers of clothing in Jorvik, so I suppose it's just because it's hard to get in the country anyway. It turns out "star coins" are like their 'dollars'--worth a bit less than the United States dollar, but after looking at it, it seems like everything is a bit cheaper than the smaller numbers. I do have some 'Star Coins', though primarily Jorvik Shillings are still preferred by most people, which I find odd.
Oh--here's a selfie I took with the local swing cat by the ferry landing

Anyway, I found myself a hotel to stay at in Jarlaheim. I'll be honest, it won't ever quite feel like home to me, but it is quite cozy with an unique style: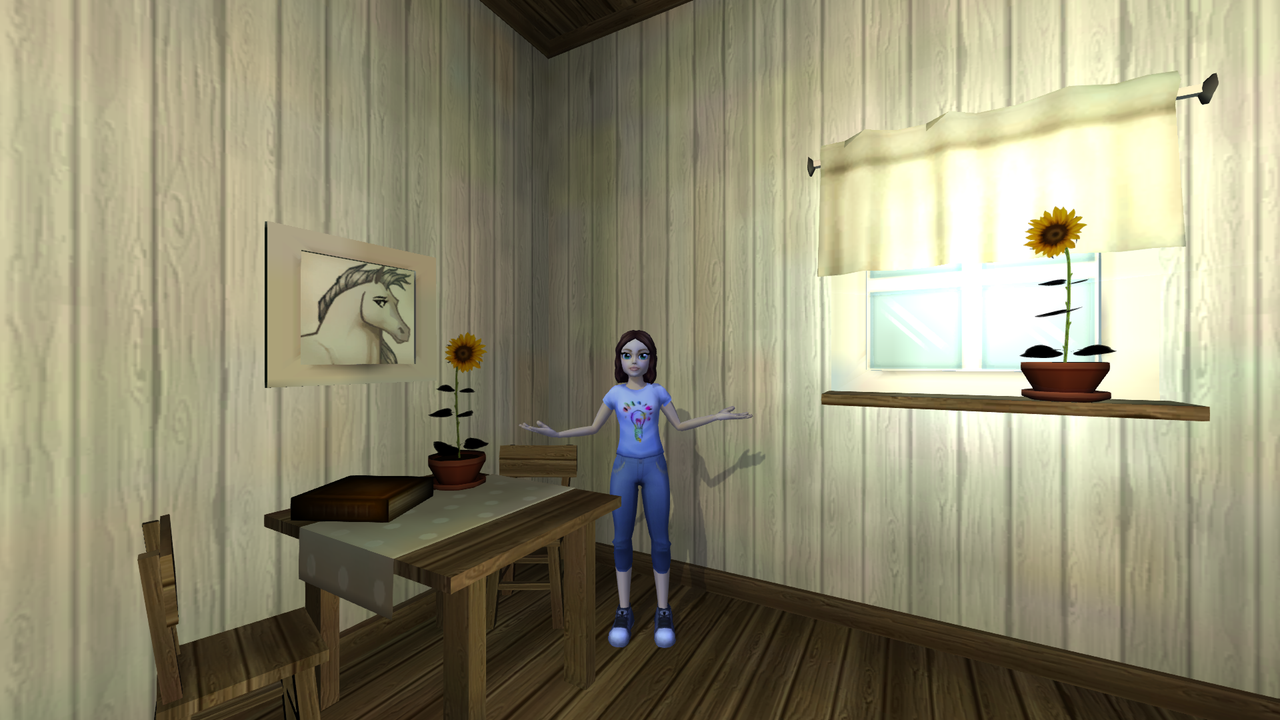 OK, to be honest, I've never seen a hotel with a table set up like this all nice and that. But hey, it's Jorvik! And don't worry, I just had a new friend I made take the picture.
After that, I talked to some local tourists and even some kind residents living in and around Jarlaheim. Apparently, they're the biggest city in the Harvest Counties region--the others are New Crescent Village and New Hillcrest. I've also been recommended to visit Jorvik City, the biggest city in Jorvik, and it's an
actual
city there, apparently. No horses allowed over there. Or, Silverglade, with the charming villages and magnificent castle. I've also been recommended to get a horse, at the very least lease a horse or something like that. I know how to ride, so riding won't be a problem. But, good news: Jorvik Stables, which is only a short jog from my hotel, apparently will be able to let me lease a horse! For a cost, of course. But the owner, Herman, is supposed to be a pretty nice guy, so I look forward to it.
I managed to hit it off pretty well with Herman and other locals. The Sunfield farm has a family with a daughter who likes cats, and of course I love cats too, so naturally I needed to visit before I find my way to Silverglade, my next destination.
As it turns out, Bluebird, my new friend for the trip, does not like cats. Actually, she is scared of them. So, unfortunately, I had to hightail it out of there. Before I did, though, Martina took the perfect picture because she thought it was funny. And gave it to me. *Sigh*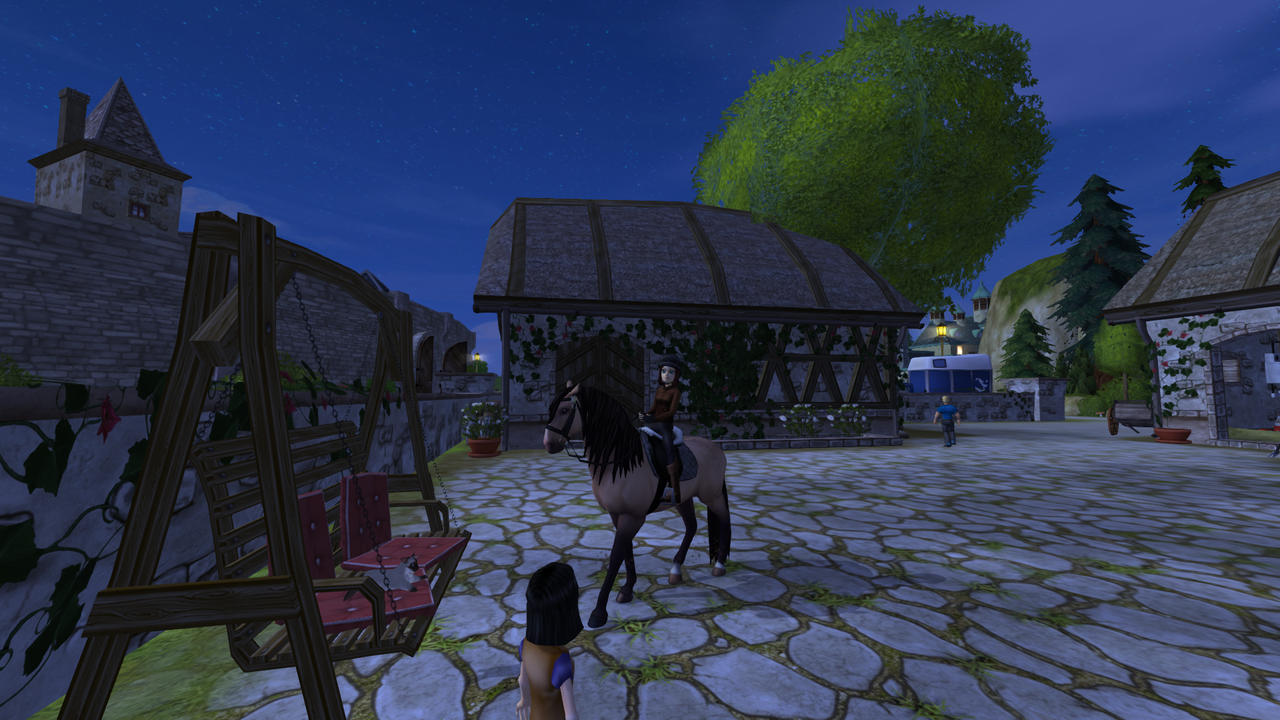 (It's late, because I spent most of the day hanging out with them. Also, you can see me looking over to Freja, seeking help. There is no help.)
The next day, I started my travels to Silverglade. This is where things start giving me "culture shock". There are nearly no cars or other vehicles in Jorvik. They have a few steamboats, namely by that drilling company that drill for oil somewhere off the coast of Moorland, but I don't see a point because there's no gas stations around. I guess it's mostly Jorvik City that has them. And catch this: because there's not really a way to drive a car in the regard of no gas stations, most of the people there either ride in buses or walk on foot.
Or.. they get a horse.
THAT'S RIGHT! People STILL ride horses on this island!! And there's SO MANY people with horses it's unbelievable! Nearly every stable allows riders to purchase a little stable on the inside for their horses. I assume that people then allow others to 'rent' those stalls as well. Because Jorvik has a small population of people, so far stable space is comfortable and there's not too many stables yet.