Post by Deleted on Jan 27, 2018 5:55:23 GMT 10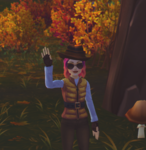 How do you think they feel?
In my opinion being a girl irl and playing a guy in game is easy but the other way around is ummm tricky. My brother he uh tried it and let's just say he wasn't comfortable with it.
This is a good point. Many females do play as male characters, but no males play as female characters. To me I feel like Star Stable shouldn't add male characters because they wouldn't be the only game that is meant for females to play. I just don't understand why it's fine for females to play as males but it's not for males to play as females because they are so called 'weak' and 'feminine' which in my opinion is slightly sexist because they are saying that females are weak and that males can't play as one because they are 'too strong for feminism' and things like that. For all the guys out there who play Star Stable, you do you! No one should have anything against a male playing as a girl on Star Stable, and if someone has a problem with it, show them your middle finger because it's none of their business and it's not their life. Also, you say "But what about all the guys out there? How do you think they feel?". Well, what about all the girls out there? How do you think they feel when they have to play as males? I know this is probably coming across as a bit aggressive, but it's my opinion, and a very strong one at that. To me it's so much more than just adding males to a game. There's so much more behind it, to me, and as a female I'm very passionate about these sorts of things about feminism and equality between both genders.
Are you kidding? I'm a teen male that has been playing starstable since it came out! I was all chill like "ok..only female models..that should be fine.." NOPE! the deeper the game gets into updating and whatever..the more uncomfortable I get with playing on the game..sure, assume I'm gay or something *not gonna say true or false*..but it's a huge mistake to think like that. That is just pure sexism on both parts in your comment..there are some feminine males out there..and as well as guys who want to play games with their female friends but aren't into it because of all the terms being used..which could cause some emotional issues. I understand you're all about equality..and so am I..but all these immature girls insisting it's going to turn into a dating game all of a sudden. Come oooooon! grow up! It's 2018!! No one is innocent after the age 9 these days *as for my opinion from observing*. Kids now days already know about sex, cursing, drugs, all these world problems and yet we care about the sad truth behind reality?
And as for "what about girls playing male characters?" that's their choice..if you pay for a game that you KNOW is male model only, your choice..no one else. Example, League Of Legends. I play as jinx because she's a complete tank in pvp rounds. I don't complain then because that's my choice to play as her.
I understand you don't mean negativity in any way..but the way it's projected, that's what causes others to think the way of people who reply with their opinion. As well with all the meaning behind it, no child younger than 13-14 is going to understand it which is why so many kids are just instantly going to the dating situation.